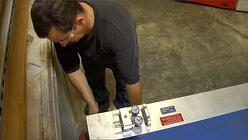 A leader in the critical containment business since 1955, Presray's flood protection products and airtight doors and systems protect valuable property and facilities from retail stores on Main Street to nuclear power plants and biosafety laboratories. Our proven products and excellent customer service are the result of finding and retaining superior talent.
Presray is an Equal Opportunity Employer.
Current Employment Opportunities
---
Civil Engineer
Overview: Presray has an immediate career opportunity in Wassaic, New York for a CIVIL ENGINEER with experience
in both Mechanical and Electrical disciplines. This position will be a technical liaison between the sales
team, customer and home office technical team to design, specify and develop flood protection barriers and
critical containment systems including the use of biometric security and access control systems with an
emphasis on quality, cost effectiveness and timeliness. The successful candidate must hold a Bachelor's
Degree in Civil Engineering, have experience with Autodesk Inventor and FEA, have the ability to create,
review and approve designs and drawings, work independently, be resourceful and have at least 3-5 years'
experience in this field.
Click Here for Full Job Description
Please use the form on the right to upload your resume or email it to us at humanresources@presray.com
---
Field Project Manager

Overview: Presray's growth requries a FIELD PROJECT MANAGER to assist the Senior Operations Manager and the Engineering Manager in overseeing all field personnel and fabrication design for large Bio-Door Projects to insure timeliness and quality of project completion. The Project Manager is the point of contact for all onsite activities for large Bio-Door projects from initial mobilization thru project completion. This job requires travel on demand and the ability to stay for extended lengths of time to satisfy job-site requirements. Preferred requirements for the successful candidate are: a BS in Engineering, Construction Management, Architectural Design or Project Management and 5 -7 years of relevant experience.

Click Here for Full Job Description
Please use the form on the right to upload your resume or email it to us at humanresources@presray.com
---
Installer – Field Services

Overview: The growing demand for Presray's products requires the addition of an INSTALLER – FIELD SERVICES to provide inspection, installation and repair services for air and watertight doors and systems. The minimum requirements for a successful candidate are: a high school diploma, the ability to travel daily, overnight and weekly to job sites throughout North America, and experience in construction, or other related fields, in a position dealing with the installation of masonry and/or steel fabrication.
Click Here for Full Job Description
Please use the form on the right to upload your resume or email it to us at humanresources@presray.com
---