D3C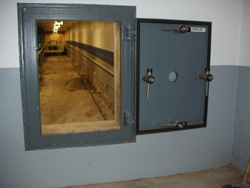 This heavy-duty watertight door is ideal for openings with light traffic that need to be sealed quickly and easily in the event of flooding.
Because these doors are engineered for a mechanical seal, no air pressure or power is needed and maintenance requirements are minimal.
These doors are ideal for heavy industrial plants, utilities and civic facilities that must be secured and protected in the event of flooding.
FLOOD PROTECTION IN SECONDS
Door size dictates the number of handles/dogs, which are evenly spaced with stainless steel rollers to all evenly distribute the loads on the gasket compression. The handles of the watertight door are provided with an "o" ring seal and two oil-impregnated bronze flange bearings to maintain shaft alignment. When not in the dogged position, the handles are held in the stored position by disk springs. Each dog has an adjustment mechanism for ideal seal compression.
APPLICATIONS — THE D3C WATERTIGHT DOOR
AT WORK
The D3C is ideal for a door that requires infrequent access and needs to be sealed around the entire perimeter. Common applications include mechanical rooms, auxiliary power units and storage rooms that must be kept dry in case of flooding. The D3C is virtually maintenance free.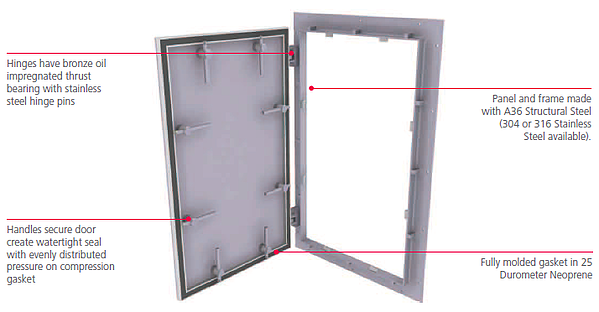 D3C Product Specifications
| | |
| --- | --- |
| Size | Custom built to any dimensions |
| Seal | Type 25 Durometer fully-molded neoprene gasket |
| Panel | A36 Carbon Steel |
| Frame | A36 Carbon Steel |
| Hinges | Bronze oil-impregnated thrust bearing with stainless steel hinge pins |
| Handles | Evenly spaced dogs with stainless steel rollers |
| Finish | Blast cleaned per SSPCSP7 and primed with one coat |
Image Gallery