Airtight APR Doors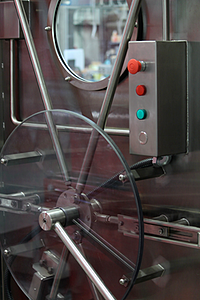 These high containment APR doors create a dependable airtight barrier by using a strong but flexible gasket that is compressed against the doorframe. The manual compression doesn't use compressed air and provides a fail-safe sealing in the event that electrical power is lost to the door.
An easy to use stainless steel arm is used to compress the door against the seal. Depending on the application, the door is available in polished stainless steel, powder-coated low carbon steel, aluminum or phenolic resin.
The door has a raised threshold for the gasket at the bottom of the door; if a flush threshold is required, our pneumatic seal doors are the solution.
APPLICATIONS — MECHANICAL SEALS AT WORK
Our range of mechanical seal doors are used in applications where high containment is required, such as in BSL3 and BSL4 labs. Due to the raised threshold of inherent in these doors, they are most suitable in low traffic environments, and where wheeled carts are not necessary.
APR Doors Image Gallery
Presray's D4BQA Compression-seal Door is ideal for bio-hazard labs, pharmaceutical and industrial clean rooms. It is available in stainless steel, low carbon steel and aluminum.