Spent Fuel Pool Gates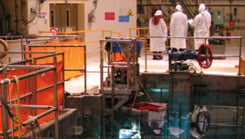 Presray is NUPIC certified and our Spent Fuel Pool Gates are based on proven technology and constructed to exacting design parameters. Presray's wide experience in critical containment solutions for nuclear facilities is unmatched and our gates are used in over 20 nuclear power plants worldwide.
We can provide complete assemblies for spent fuel pools or transfer canals including engineering, seismic analysis, design, detailing and fabrication. Our gates are applicable for new or expanded pools and canals at BWRs, PWRs, processing facilities and remote storage sites.
Our gates typically incorporate double pneumatic seals, although other configurations are available. The seals are fully molded (not extruded) with radiation resistant elastomeric materials; fabric reinforcing is incorporated for additional structural integrity.
PROVEN TECHNOLOGY. EXACTING SPECIFICATIONS.
All welding is performed in accordance with the requirements of ASME Section IX; and all liquid penetrant weld inspection is performed in accordance with Section VIII, Appendix VIII by certified personnel per ASNT-SNT-TC-1A.
The gates come with matching frames and are available in either hinged or drop-in configurations. Installation simply requires welding the frames to the liner of the spent fuel pool.
As with all of our products, we provide turnkey installation, inspection services, field repairs and the sourcing of hard-to-find replacement hardware.