FB22 Removable Flood Protection Barriers
| | | | | |
| --- | --- | --- | --- | --- |
| Download Center: | | | Drawings: | |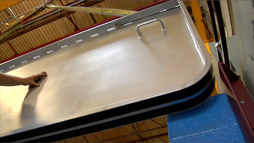 The heavy-duty but lightweight aluminum panel of the FB22 provides fast and reliable flood protection barriers for virtually any size opening. The flood protection panel slides into permanently installed conversion frames and inflates in minutes to create highly reliable and extremely durable flood barrier. The FB22 is suitable for both new construction and for retrofitting openings of existing structures. In both situations, the sill can be recessed to prevent a tripping hazard.
A reliable watertight seal is achieved on three sides of an opening with dual inflatable seals for redundant protection. For new construction, the frame for the panel can be aesthetically integrated with the doorjambs.
These panels can normally be deployed by one or two people. Larger panels — up to 40 square feet — can be easily deployed with a forklift or similar device. Multiple panels can be linked with removable mullions for opening too wide for a single panel.
APPLICATIONS — THE FB22 FLOOD PROTECTION BARRIERS
AT WORK
The FB22 is perfect for doorway openings, loading docks or any other openings in municipal, industrial or commercial facilities. The panels can be stored out of site when not needed, and Presray's Pneuma-Seal® technology offers effective and reliable protection.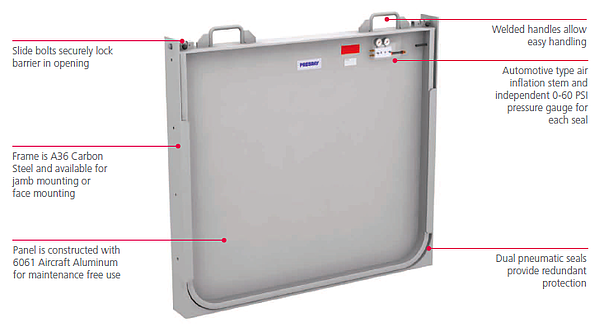 FB22 Product Specifications
Size

Custom built to any dimensions up to 40 square feet

Panel

6061-T6 Aluminum

Frame

Conversion frame is made of A36 Carbon Steel. 304/316 Stainless Steel also available.

Seals

Presray Pneuma-Seal® technology

Hardware

Welded aluminum hand grips for easy handling.
Manually operated slide bolts lock panel into jamb.

Finish

Panel is bright aluminum. Frame is blast cleaned per SSPCSP7 and primed with one coat
Image Gallery