CG3S
| | | | | |
| --- | --- | --- | --- | --- |
| Download Center: | | | Drawings: | |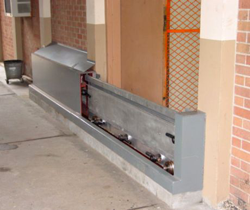 This sliding flood barrier stays at the opening but is tucked away behind a wall or covered enclosure when not in use. And with a flush bottom sill, the CG3S is idea for high traffic environments.
Because these doors are engineered with mechanical seals, no air pressure or power is needed and maintenance requirements are minimal.
Every CG3S is custom built to your exacting dimensions. For existing openings, the frame is mounted to the face of the building with expansion anchors; a trench is cut into the existing concrete floor and the sill is cast in place. For new construction, the track and frame are poured in place.
COMPLETE FLOOD PROTECTION IN UNDER ONE MINUTE
When floodwaters threaten, simply open the hinged sill and jamb cover plates and roll the sliding flood barrier into place. Simply turn the handles and the opening is secured.
APPLICATIONS — THE CG3S SLIDING FLOOD BARRIER AT WORK
The CG3S sliding flood barrier is ideal for environments where heavy traffic requires a flush floor sill but fast and easy deployment is desired with minimal aesthetic impact. Because the barrier is hidden from view when not in use, remote storage and deployment logistics are eliminated.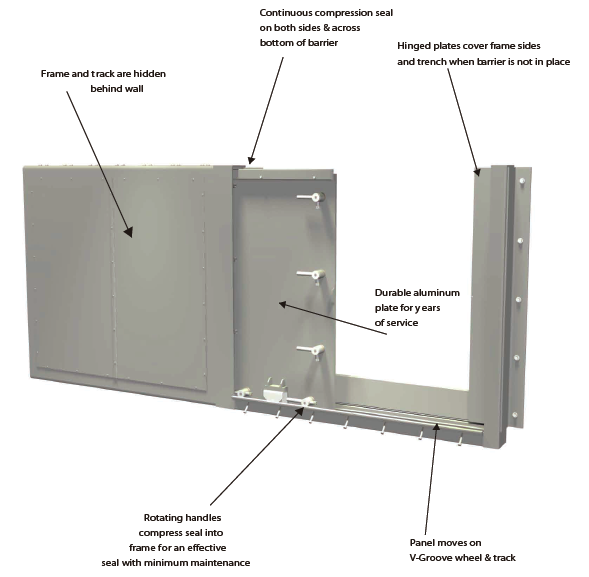 CG3S Product Specifications
Size

Custom built to match opening size

Panel

6061-T6 Aluminum plate

Frame & Track

Low carbon steel (Stainless Steel & 6061-T6 Aluminum plate optional)

Seals

Presray type 25 durometer, fully-molded neoprene (other materials are available for special environments)

Hardware

Shrouds: 6061-T6 Aluminum (other materials available)
Compression Handles: Presray type handles with stainless steel rollers

Finish

Panel: Bright Aluminum Plate
Conversion Frame: Primed with rust inhibitive, lead free, red primer
Image Gallery