FB55
| | | | | |
| --- | --- | --- | --- | --- |
| Download Center: | | | Drawings: | |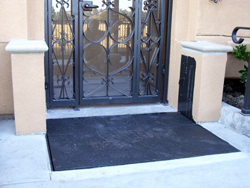 This heavy-duty "flip-up" floodgate is ideal in flash flood environments where a flush bottom surface is required and stop logs aren't fast enough.
When floodwaters begin to rise, the gate raises out of a recessed pan in the slab. Depending on the size of the opening, the FB55 can be either manual or fully automatic. Dual seals on the sides and bottom of the gate provide redundant protection.
Every FB55 is custom built for openings up to 25' wide and 5' in height. The barrier pan can be cast in place for new construction or can be bolted in place for existing structures.
HEAVY DUTY FLOOD PROTECTION IN A MOMENTS NOTICE
For fast maximum flood protection the FB55 is an ideal solution. With the fully automated model simply turn the activation key to the "Raise" position to deploy the floodgate. A horn and strobe signal the raising of the panel by a hydraulic system. Once in the upright position, dual pneumatic seals automatically inflate to fully seal the opening.
APPLICATIONS — THE FB55 AT WORK
The FB55 is perfect for parking garages and other large openings, especially where automatic deployment is desired. If your facility is prone to flash flooding, the FB55's hinged gate and pneumatic seals offers efficient and superior protection from floodwaters.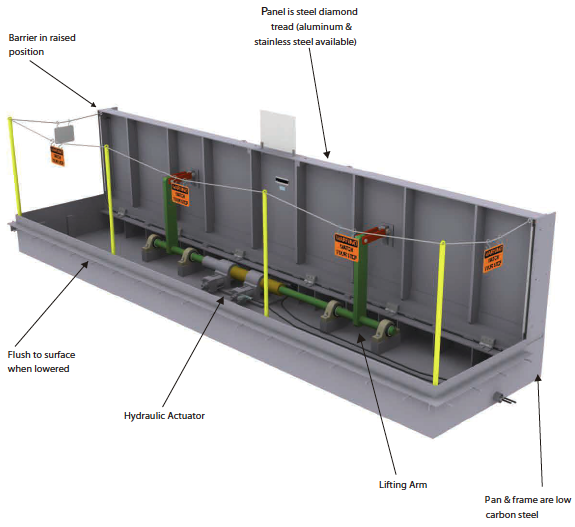 FB55 Product Specifications
Size

Custom build up to 25' wide and 5' in height

Panel

Steel Diamond tread plate

Frame

Low-carbon steel (stainless steel optional)

Seals

Presray pneumatic-seal technology — dual seals on three sides of gate

Hardware

Hinges: Presray Series heavy-duty low friction precision hinges
Latches: Slide bolts to hold panel in closed position with lockable feature
Image Gallery