CG11HA
| | | | | |
| --- | --- | --- | --- | --- |
| Download Center: | | | Drawings: | |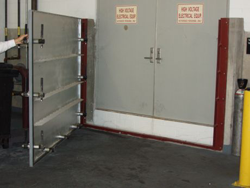 This heavy-duty, side-hinged floodgate is ideal for doors and other exposed openings in industrial and commercial buildings. Always ready to be deployed in a moments notice, this floodgate is ideal for flash-flood environments.
When floodwaters threaten, simply close the gate and turn the handles to compress the gaskets for a watertight seal on the sides and bottom of the panel.
Every CG11HA is custom built for virtually any size opening.
RELIABLE FLOOD PROTECTION IN A MOMENTS NOTICE
For fast, reliable flood protection for doors and other openings, the CG11HA Floodgate is the ideal solution. Simply closed the gate and turn the handles ¼ turn to securely seal the gate on three sides.
APPLICATIONS — THE CG11HA AT WORK
The CG11HA is ideal for commercial or industrial doorways and other openings, including loading docks. For existing openings, a conversion frame is mounted to the jamb or building using expansion anchors; for new construction the frame is poured in place. A removable sill is available for a trip-free threshold.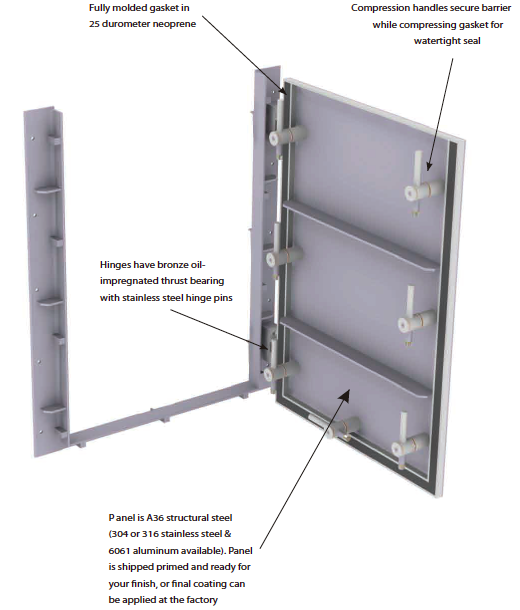 CG11HA Product Specifications
| | |
| --- | --- |
| Size | Custom built to match protection requirements. |
| Panel | A36 Structural Steel (Stainless Steel and 6061-T6 Aluminum available). |
| Frame | A36 Structural Steel (Stainless Steel and 6061-T6 Aluminum available). |
| Seals | Type 25 durometer, fully-molded neoprene gasket (Viton® and other materials available). |
| Hinges | Lower hinge to include bronze, oil-impregnated thrust bearing. All hinges include stainless steel pins and mounting bolts. |
| Handles | Used to engage evenly spaced dogs with stainless steel rollers. Seal compression is adjustable after installation. |
| Finish | Blast cleaned per SSPC-SP7 and primed with one coat red primer. |
Image Gallery