D3HA Watertight Hatch
| | | | | |
| --- | --- | --- | --- | --- |
| Download Center: | | | Drawings: | |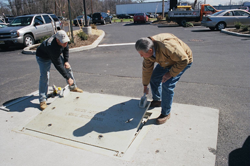 This heavy-duty watertight hatch is designed for openings that are infrequently used and need to be sealed quickly and easily in the event of flooding.
Because these hatches are engineered with a mechanical seal, no air pressure or power is needed and maintenance requirements are minimal.
To avoid interference with personnel, equipment and vehicles, the D3HA is available in a fully flush design.
APPLICATIONS - THE D3HA AT WORK
The D3HA watertight hatch is ideal for water treatment facilities, sewage treatments plants and pumping stations. They are great for mechanical and equipment spaces that must be kept dry in case of flooding. These hatches will be ready when you need them because they are virtually maintenance free.
FLOOD PROTECTION IN SECONDS
The opening size dictates the number of handles/dogs, which are evenly spaced with stainless steel rollers to all evenly distribute the loads on the gasket compression. The dogs are provided with an "o" ring seal and two oil-impregnated bronze flange bearings to maintain shaft alignment. When not in the closed position, the dogs are held in place by disk springs. Each dog has a mechanism to adjust seal compression after installation.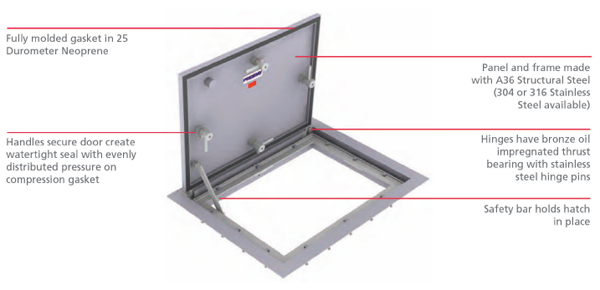 D3HA Product Specifications
| | |
| --- | --- |
| Size | Custom built to any dimensions |
| Seal | Type 25 Durometer fully-molded neoprene gasket |
| Panel | A36 Carbon Steel |
| Frame | A36 Carbon Steel |
| Hinges | Bronze oil-impregnated thrust bearing with stainless steel hinge pins |
| Handles | Evenly spaced dogs with stainless steel rollers |
| Finish | Blast cleaned per SSPC-SP7 and primed with one coat red primer |
Image Gallery