D3DQA- Watertight Door Sealed For Protection and Flood Mitigation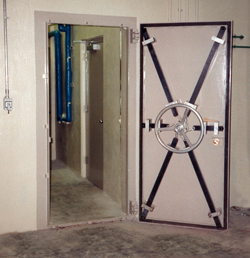 This watertight door is ideal for openings with frequent traffic that need to be sealed quickly for flood mitigation.
Because these doors are engineered with mechanical seals, no air pressure or power is needed and maintenance requirements are minimal.
Every D3DQA is custom built to exacting dimensions for new or existing construction to maximize flood mitigation. For existing openings, frame is mounted to building with expansion anchors; for new construction, the frame is poured in place.
COMPLETE FLOOD PROTECTION WITH THE TURN OF A HANDLE
Simply closed the door and turn the handle ¼ turn to securely seal the door on all four sides. The standard model protects to 25' head (higher heads are available).
FLOOD MITIGATION— THE D3DQA AT WORK
The D3DQA is ideal for Water Treatment Facilities, Sewage Treatment Plants and Pumping Stations; as well as mechanical and equipment rooms in any critical facility.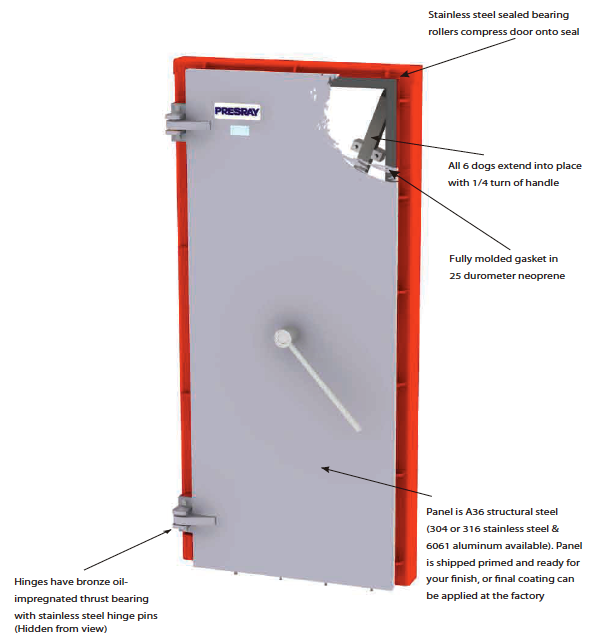 D3DQA Product Specifications
Size

Custom built to match opening size

Panel

ASTM A36 Structural Steal Plates and Shapes (Stainless Steel and 6061-T6 Aluminum plate available)

Seals

Presray type 25 durometer, fully-molded neoprene (other materials available for special environmental conditions)

Hardware

Hinges: Bronze, oil-impregnated thrust bearing with stainless steel pins
Latch System: Lever actuates minimum of six arms with stainless steel rollers – adjustable for stroke length and position (Handwheel optional)

Finish

Primed with rust inhibitive, lead free, red primer
Image Gallery