CG11FS Flood Panel
| | | | | |
| --- | --- | --- | --- | --- |
| Download Center: | | | Drawings: | |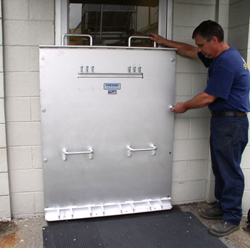 This lift-out flood panel is designed for doorways or openings that require a flush threshold and where it is desired to store the panels away from the openings when not needed.
Because these flood barriers are engineered with mechanical seals, no air pressure or power is needed and maintenance requirements are minimal.
Every CG11FS flood panel is custom built to exacting dimensions for new or existing construction. Jambs can be installed for either seating or unseating loads.
SIMPLE, RELIABLE FLOOD PROTECTION
Pre-install supplied conversion frame. When rising waters threaten, simply remove the panel from storage, set it in the opening jamb and tighten screws around the perimeter with a wrench.
APPLICATIONS — THE CG11FS FLOOD PANEL AT WORK
The CG11FS flood panel is ideal for commercial or industrial doorways and other openings, including loading docks. Panels up to 18 sq. ft. can be handle by one or two people; larger panels can be set in place with a forklift.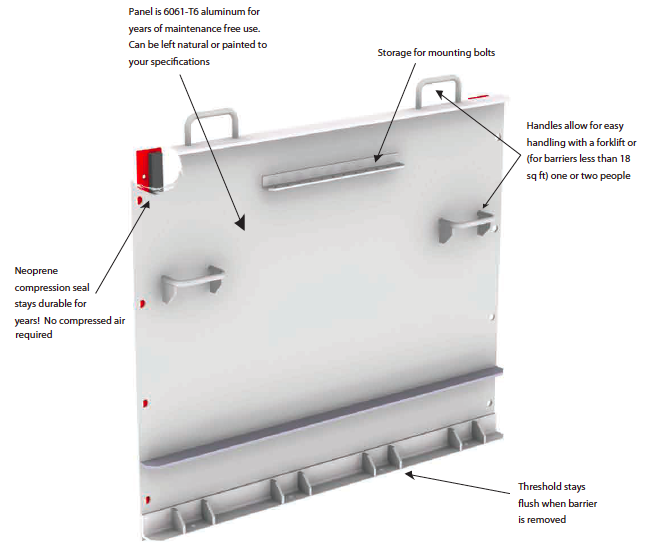 CG11FS Flood Panel Product Specifications
Size

Custom built to match opening size

Panel

6061–T6 Aluminum plate (Steel and Stainless Steel optional)

Conversion Frame

Low carbon steel (Stainless Steel optional)

Seals

Presray type 25 durometer, fully-molded neoprene gaskets; no mitered joints (other materials available for special environmental conditions)

Hardware

Attachment Bolts: Presray type FS
Handles: Welded on top and/or face of panel for ease of handling

Finish

Panel: Bright aluminum
Frame: Primed with rust inhibitive, lead free, red primer.
Image Gallery