FB44
| | | | | |
| --- | --- | --- | --- | --- |
| Download Center: | | | Drawings: | |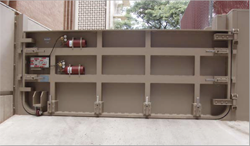 This heavy-duty, side-hinged floodgate is ideal in flash flood environments where a flush bottom sill is required. When floodwaters begin to rise, simply close the gate, slide the locking bolts and inflate the seals. Dual seals on the sides and bottom of the gate provide redundant protection. Every FB44 is custom built for virtually any size opening. They are suitable for both new construction and for retrofitting into the openings of existing structures. In both situations, the sill can be recessed to prevent a tripping hazard. For extra wide openings, dual FB44s floodgate can be used together with a center mullion. If your facility needs maximum flood protection that can be easily deployed in minutes, the FB44 is the proven solution.
RELIABLE FLOOD PROTECTION AT A MOMENTS NOTICE
If your facility demands fast, maximum flood protection, there's no better solution. Once the gate is closed, and the slide bolts are locked in place, the FB44 is inflated in minutes by either a hand pump, compressed air tank, or air compressor.
APPLICATIONS — THE FB44 FLOODGATE
AT WORK
The FB44 is perfect for doorway openings, loading docks, parking garages or any other openings in municipal, industrial or commercial facilities. If your facility is prone to flash flooding, the FB44's hinged floodgate and pneumatic seals offers the maximum and most efficient protection available.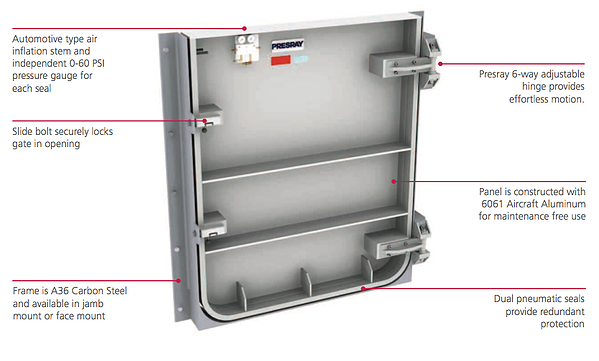 FB44 Product Specifications
| | |
| --- | --- |
| Size | Custom built to match dimensions of any opening |
| Panel | 6061 Aircraft Aluminum |
| Frame | Conversion frame is made of A36 Carbon Steel. 304/316 Stainless Steel also available. |
| Seals | Presray Pneuma-Seal® technology — dual seals on three sides of gate |
| Hardware | Manually operated slide bolts lock panel into jamb or into storage position Presray Six-Way Adjustable Hinges — low friction with oil impregnated bronze bushing for radial and thrust loads |
| Finish | Panel is bright aluminum. Frame is blast cleaned per SSPCSP7 and primed with one coat |
Image Gallery